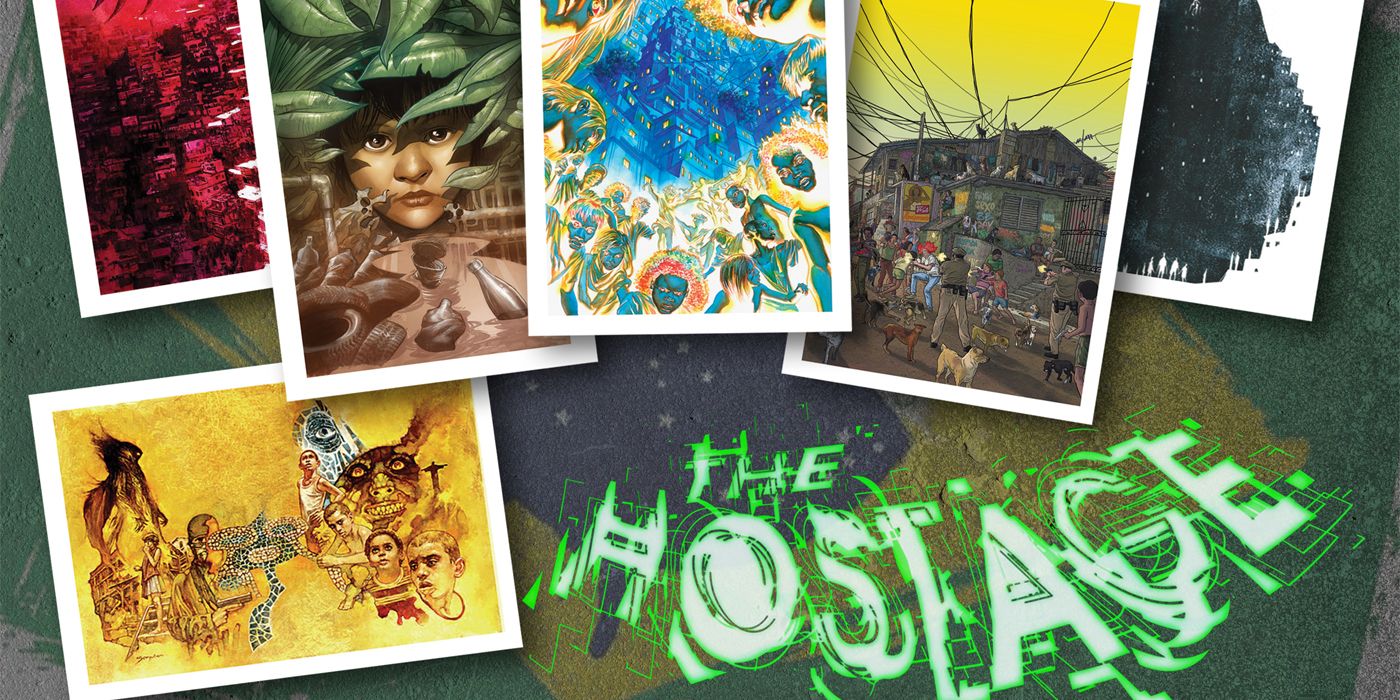 Celebrated art rep Sal Abbinanti, known for his work with comic book artists Alex Ross and Bill Sienkiewicz, recently launched a Kickstarter campaign in support of his own debut graphic novel, The Hostage.
"When I was 25, I spent six months living in Rio de Janeiro," Abbinanti said of his decision to set the novel in the Brazilian capital. "I was a starry eyed, full of shit college kid who went there for a Brazilian vacation of samba, nightlife, and beaches. To see the level of poverty, suffering, and death in Rio de Janeiro was eye opening. I will never forget it."
RELATED: Super Best Friend: Jupiter Jet Co-Creator's New Kickstarter Gets a Stunning Travis Mercer Variant (Exclusive)
The 115-page full-color original graphic novel is set in the poverty-stricken favelas of Rio de Janeiro and is described by Abbinanti as a "tribute to the amazing country and especially to the kids living in the favelas of Rio de Janeiro." It is also loosely inspired by the culture and religions of Brazil, which includes the Umbanda and the Candomblé.
The story itself follows a group of kids who are abandoned by society and struggle to navigate the effects of poverty and gang violence every day. Facing dire circumstances, the kids decide to join together and summon a mystical spirit called The Hostage, who will protect them and avenge the deaths of their friends. Abbinanti has been working on sketching characters, panels, and scripting pages for The Hostage for more than 10 years.
RELATED: Tony Schiavone's Wrestling Career Has Become a Graphic Novel
"One of the most exciting parts of bringing my project to Kickstarter is the opportunity to connect with so many amazing artists from around the world and bring their work to you," Abbinanti said about the crowdsourcing campaign. "I've been working in the comics business for a long time and I'm really lucky to know so many talented artists who have been willing to make contributions to this project. It's an honor to see their visions for The Hostage and have them be part of this."
Readers who donate to the Kickstarter campaign will receive limited edition lithographs from Alex Ross, Bill Sienkiewicz, Jeffrey Alan Love, Sanjulián, Geof Darrow and Eric Powell. The campaign also features donation tiers with original sketch cards, postcards, and bookmarks featuring Abbinanti's signature vibrant illustrations. One of the donation tiers also includes a digital edition of The Hostage available in both English and Portuguese.
The Kickstarter campaign for The Hostage is currently live and concludes on Feb. 25.
KEEP READING: Adult Graphic Novel Sales Jumped Nearly 30% in 2020 (Largely Thanks to Manga)