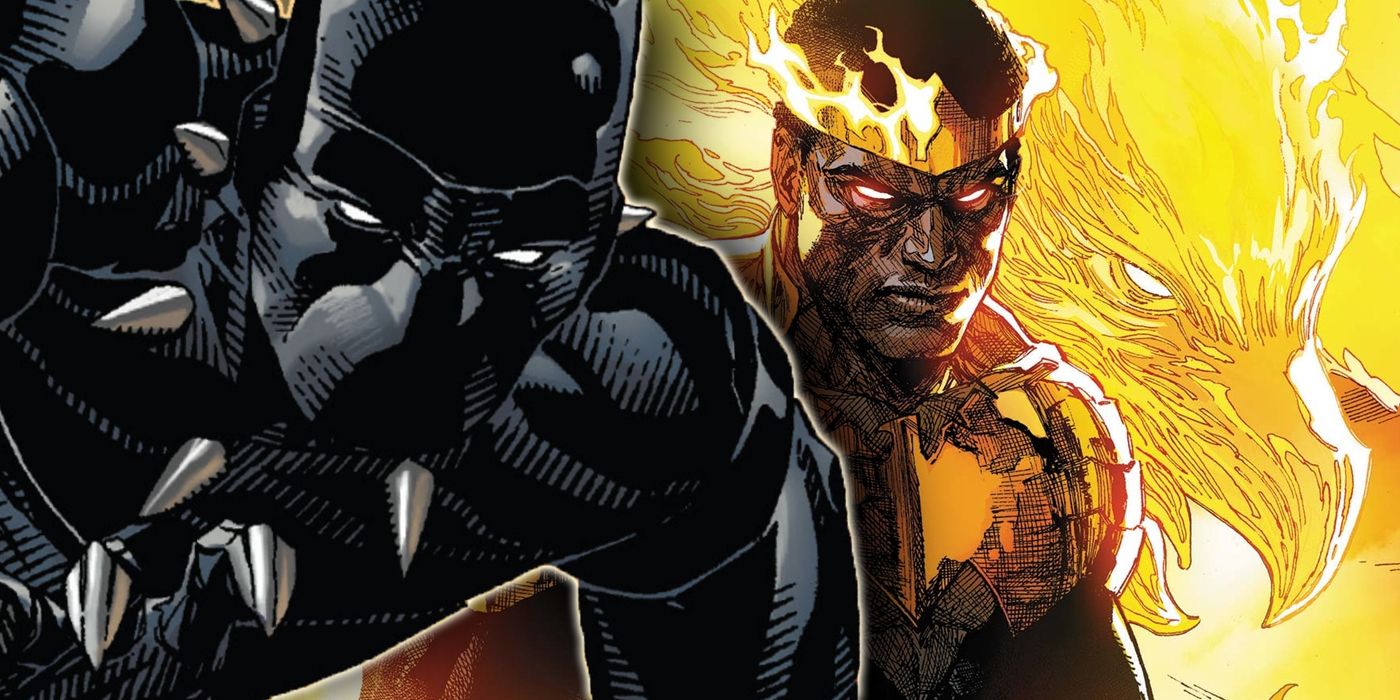 WARNING: The following contains spoilers for Avengers #41, by Jason Aaron, Javier Garrón, David Curiel and VC's Cory Petit, on sale now.
In the latest storyline of the Avengers title, "Enter the Phoenix," the Phoenix Force has abducted multiple Marvel heroes and villains to stage a contest that will determine who among them will become its new host. In Avengers #40, the contest kicked off with a confrontation between Captain America and Doctor Doom, both of whom were given part of the Phoenix's fiery powers. Now, in issue #41, the next round begins, with Black Panther set to fight Man-Thing just outside of Wakanda.
Captain America had the luxury of fighting a villain, but Black Panther isn't as lucky. Unfortunately, he has to fight a fellow hero — and the father of Boy-Thing, who is currently a member of the Avengers alongside T'Challa. But however regretful this fight may be, it does allow Black Panther to prove that he is truly the greatest Avenger.
RELATED: Avengers: Captain America Reveals His Edge Over Doctor Doom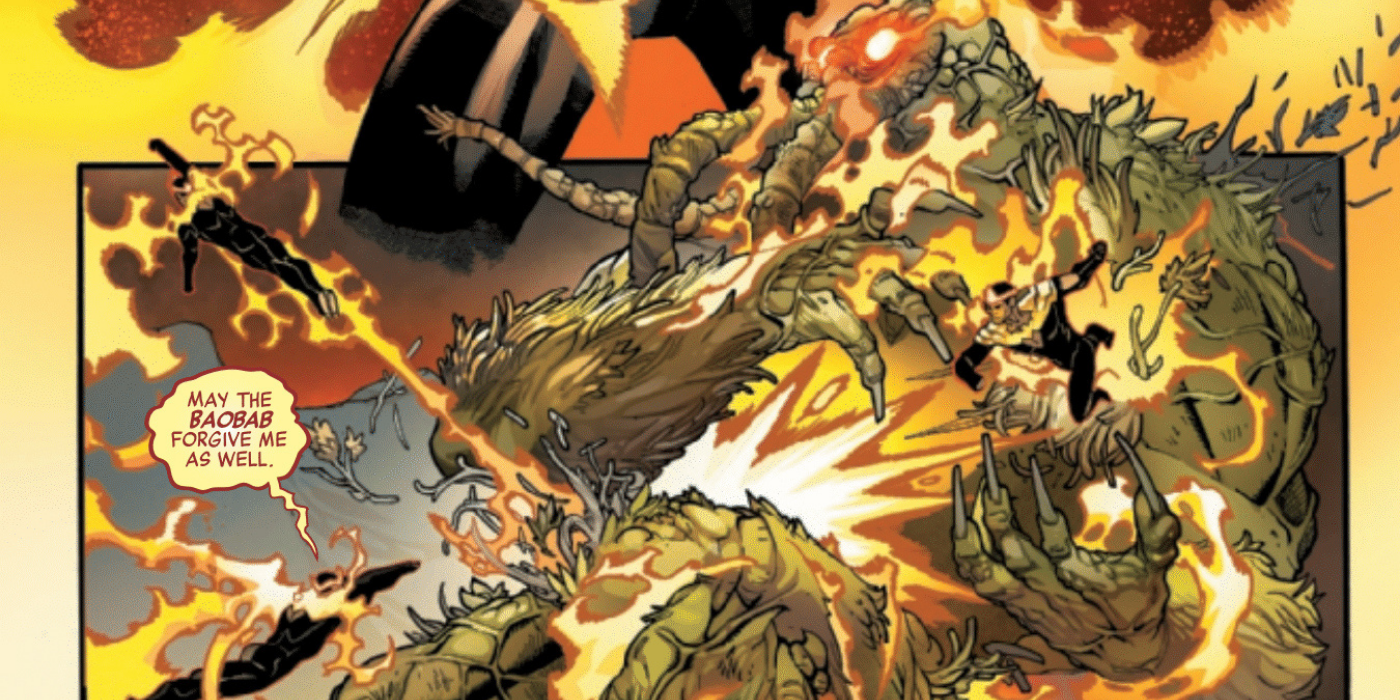 The Man-Thing is an elemental superhero tasked with protecting the Nexus of All Realities. He has many powers in his arsenal, from his plant-like body to his incredible strength, but what is perhaps most a signature for the character is his ability to burn with a the touch anyone who fears him. Black Panther is of course aware of that powerful ability, as he reminds himself moments before the battle.
"The Phoenix also reminds me that everything burns at the touch of the Man-Thing," he says in his narration. "Everything that knows fear."
At the very same moment, the Man-Thing, now covered in flames and overtaken by the corrupting nature of the Phoenix, rushes toward the Black Panther, ready to run right through his opponent.
RELATED: Avengers: How The Entire Marvel Universe Forgot About Three Of Its Most Powerful Heroes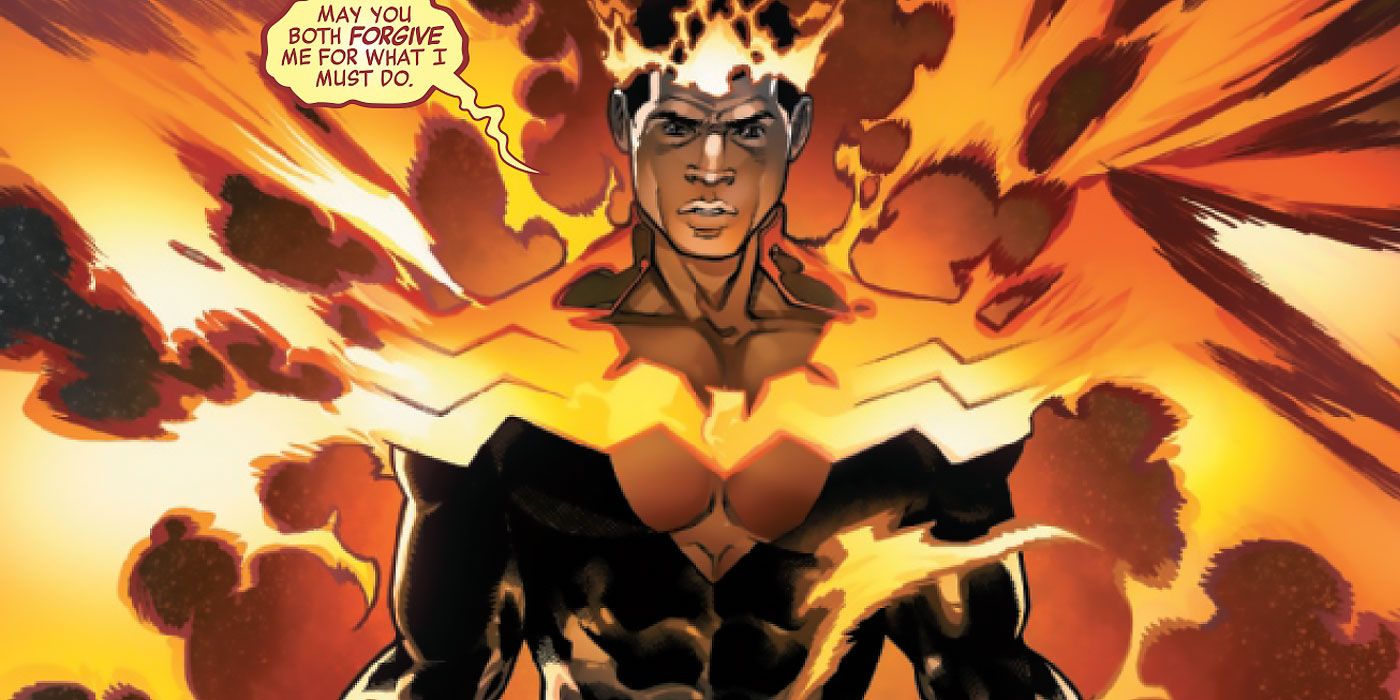 When they are finally face to face, the Man-Thing lays a single finger on the Black Panther, hoping to use his most powerful ability against him. But T'Challa simply stands, a powerful statue, unnerved and unmoving, stoic and strong. At the touch of the Man-Thing, Black Panther is completely unaffected, and what flames burned on the creature simply fizzle out. T'Challa knows no fear, and he certainly isn't afraid of the Man-Thing. It's why, without lifting a single finger, he proves his superiority.
This largely helps Black Panther fight back and win the battle, and it allows him to once again demonstrate what makes him such a great Marvel superhero. It's another scene that can be added to a long list of character-defining moments. The Avengers title has been a showcase of sorts for Black Panther ever since its relaunch in 2018, from his confrontation with Moon Knight, his battle of chess with Mephisto and his many allies and his formation of the Agents of Wakanda.
When this volume of Avengers began, T'Challa was named the new chairman and leader of the superhero team, and he has proven, time and time again, why he is a perfect choice.
KEEP READING: Avengers: Every Way The Marvel Team Came Together